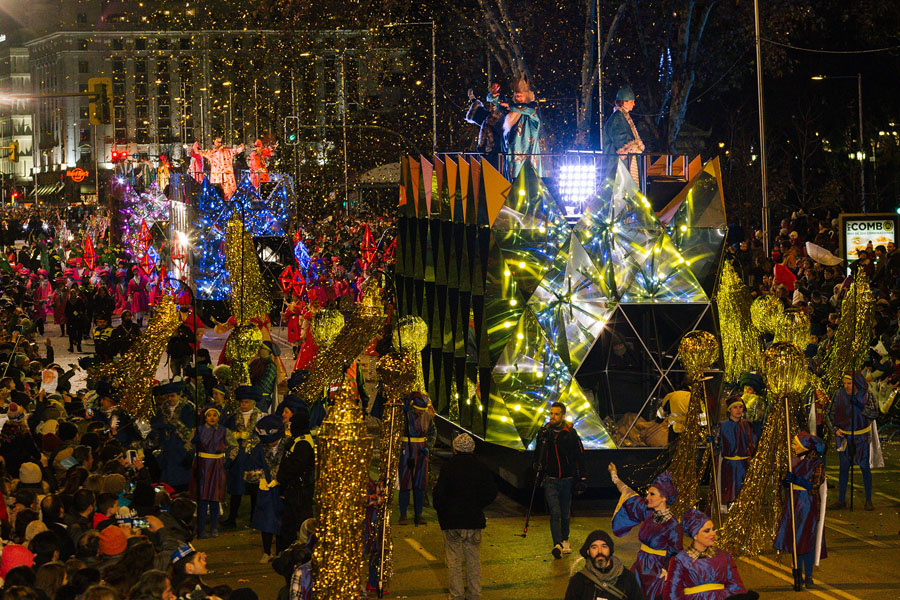 PARADE OF THE CITY OF MADRID
As the sun set on 5th January 2016, Melchior, Caspar and Balthazar travelled the streets of Madrid on constellations of light, to be welcomed by hundreds of thousands of children after a long trip.
The 2016 Cavalcade of the Magi of Madrid , told precisely the long trip of these three wisemen: the places that they crossed through all the continents, the characters that they met in their way: different peoples, animals, aliens or other beings of multiple natures; the natural phenomena they had to go through: storms, seas and mountains … the sky that they saw or the outer space from where the shooting star guided them on their journey.
During the creation of this parade we were aware that tradition is a living thing, something that is transformed in time, where fiction is a fundamental part of it. Fiction can be told in many different ways. In each story there is an ethic and a policy that creates the relationships between the different parts that make it up.
Our interest in telling this story was to rescue less connoted and more open ways of telling, where the imagination of the one who relates to them completes the form.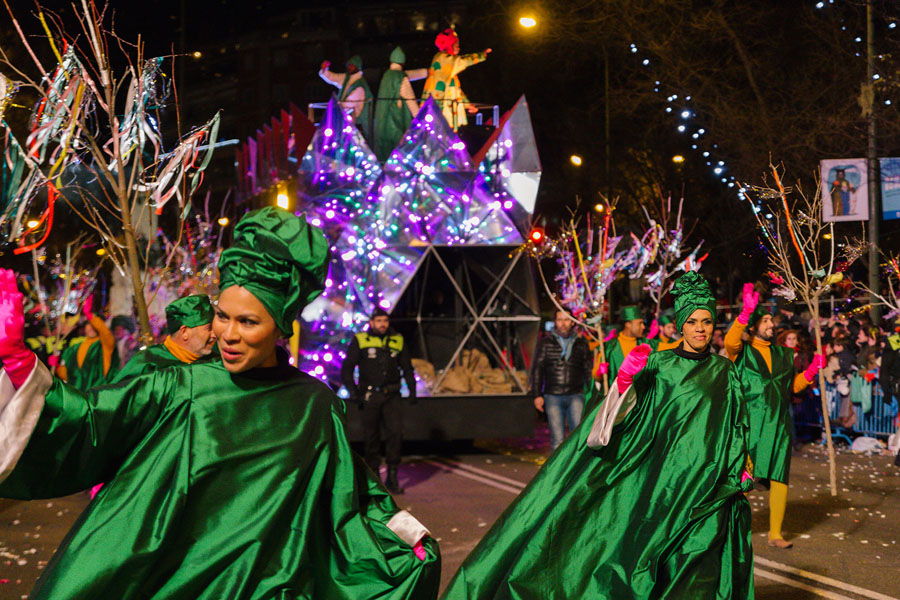 That is why we created a team with different contemporary artists, architects, performers and artisans that propose in their own work other ways of expression and telling: Elii (architecture office), Jorge Dutor, Laura Millán, Señor Lobo, Juan Domínguez, Amalia Fernández, Cuqui Jerez or David Picazo, among others.
"The carriages of the Three Kings are built as a kaleidoscope of lights and mirrors, a dynamic optical device that is activated by the motion of the vehicles, playfully challenging the citizens' perception. (…) Each of the carriages has a predominating colour that is nuanced with other shades, depending on the personality of each King: gold and indigo for Melchior, blue and purple for Caspar, pink and green for Balthazar.

They also produce certain effects related to their respective occupations: for Melchior, golden confetti is launched high up into the air as a symbol of astronomy and gold. In Caspar's carriage, smoke is produced to represent alchemy and incense. Balthazar's carriage blows water bubbles, as a reference to botany and myrrh. The textures and colours of the props and the clothing of the Royal Entourage accompanying the carriages are coordinated with the unit as a whole. (…)"

Elii (architecture office)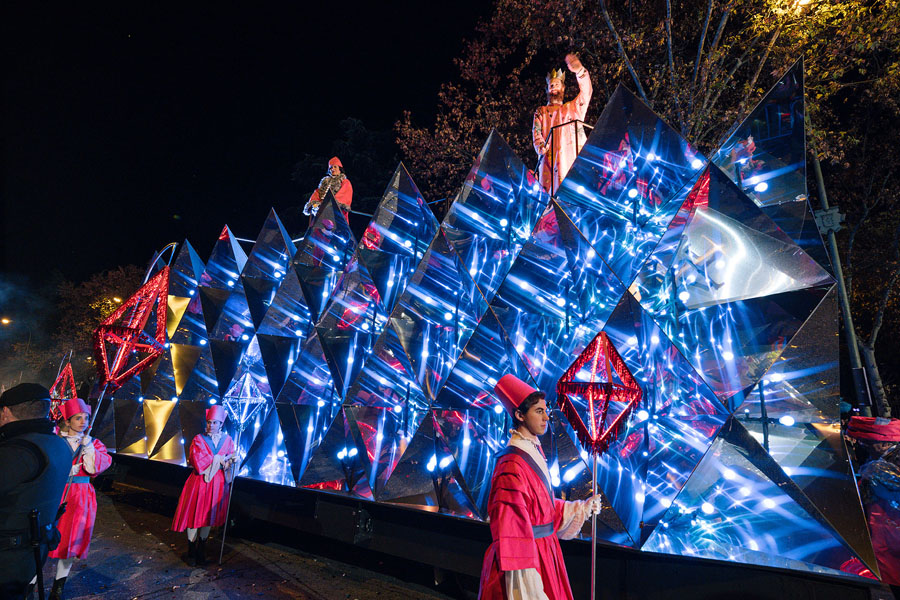 CREDITS
In 2016, the City Hall of Madrid commissioned Maral Kekejian to curate all the Christmas activities, including the traditional parade: Cavalcade of the Magi, of the city of Madrid. In turn, Maral Kekejian invited Maria Jerez to do the artistic co-direction of the parade.
Artistic direction: Maral Kekejian & Maria Jerez.
Costumes: Jorge Dutor.
Atrezzo: Laura Millán.
Lights: David Picazo.
Sound: Oswaldo Terrones.
Production: Ignacio Buhigas.
Music: Señor Lobo.
Carriages: Elii (architecture office)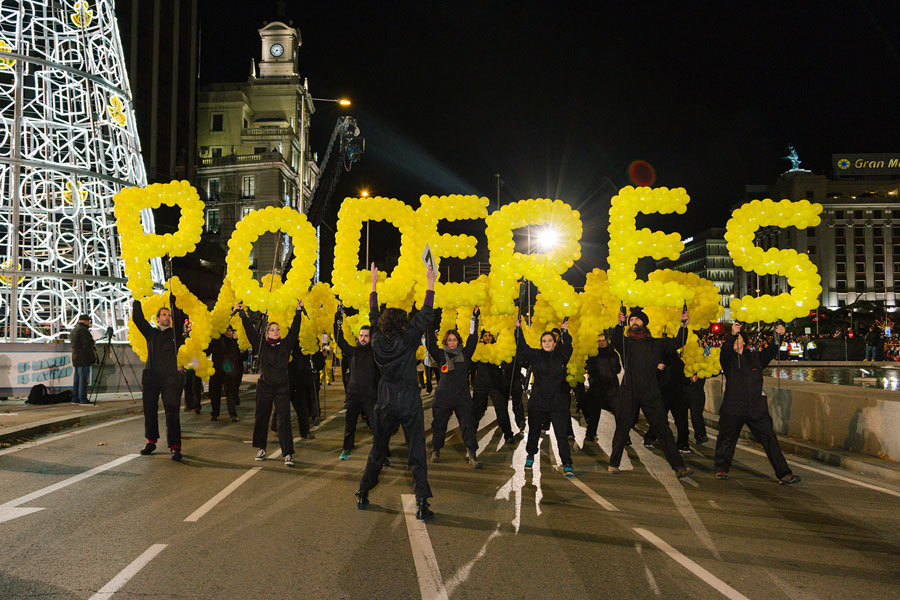 * First Award COAM -ex aequo- (Official Professional Association of Architects of Madrid), 2017
* * Finalist FAD Award, Category: Ephemeral Interventions, 2017
TEXTS & PRESS