EL CASO
DEL ESPECTADOR
2004
Performance
With this work I want to question the point of view of the spectator as well as the power that representation and fiction have on our mechanisms of perception. The created device consists basically of an armchair, a television and a video camera that I manipulate from the armchair. This way I create a film, of which I am, at the same time, the spectator, thus splitting reality into a staged situation and a filmed situation.
This device has a black hole, a blind spot, a dead time that allows me to play with what the spectator does not see, and offer multiple spaces that coexist in one; structures that are developed infinitely; double images and double actions; games of reality and fiction; the fragmentation of the body and the image; multiplicity of characters; the contradictory passing of time.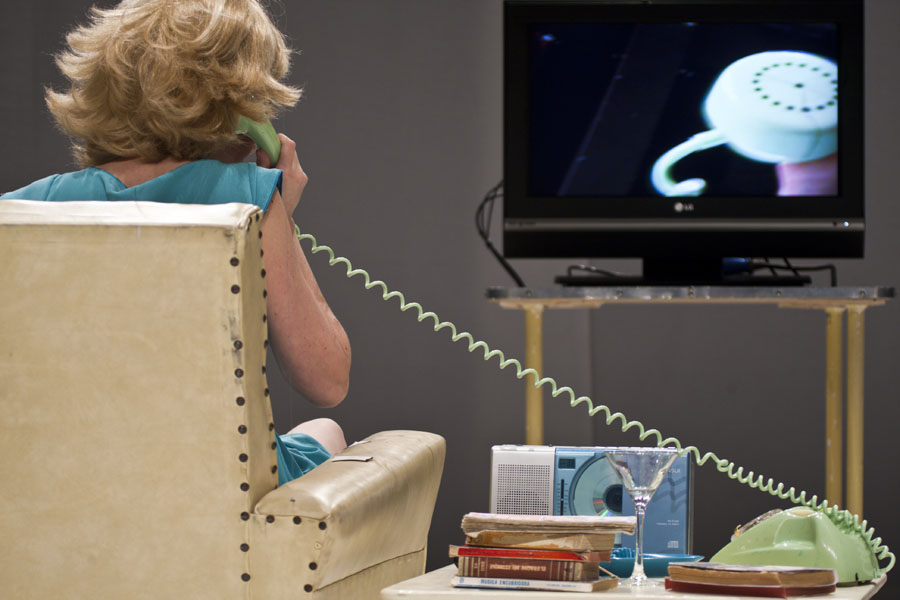 CREDITS
45 min
Concept and Performance: Maria Jerez 
Technical assistance: Gonzalo Montón
Costume: Hanna Sjödin
Co-produced by MUGATXOAN 2004- Arteleku Gipuzkoako Foru Aldundia, Fundaçao Serralves.
With the collaboration of In-Presentable 2004 and Aula de Danza Estrella Casero of the University of Alcala de Henares.
Thanks to Juan Domínguez , Edurne Rubio, Larraitz Torres, Cristina Blanco, Cuqui Jerez, Jaime Conde-Salazar, Maria José Manzaneque, Beatriz Quintana and Miguel Jerez.  And specially to Blanca Calvo and Ion Munduate who supported and followed the whole process of the piece.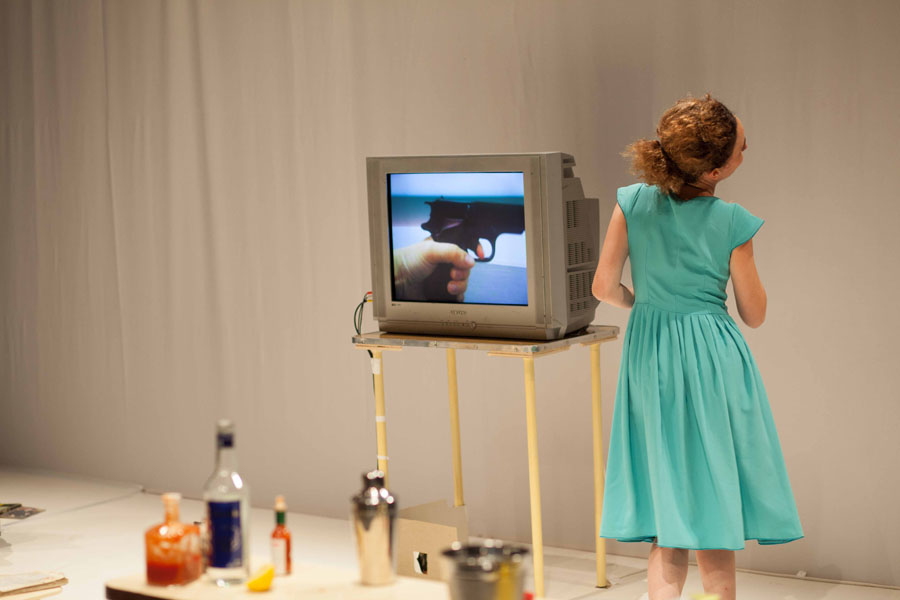 CALENDAR
2017
18 & 19/ 10 Indisciplinados 2017, Lima
06 & 07/ 05 Prácticas para estar juntas, NAVE, Santiago de Chile
2016
23/04 Kamaleoiak Gara! Tabakalera, San Sebastian
2015
02/06 12 Bienal de la Habana, Teatro Ciervo Encantado. La Habana, Cuba
17/03 ]domaines[ CCNMLR, humain trop humain CDN Montpellier
18/02 Nuevas escenas, nuevas miradas, La Pedrera, Barcelona
06-08/02 Teatro Pradillo, Madrid
2014
17/09 Ganz Novi Festival, Zagreb
2011
08&09/10 Grand Theater's (Groningen) blind date at Heerenveen and Assen
2010
21/12 Living Room Festival, Berlin-Madrid
23-25/09 Iseman Theater, No Boundaries Series, Yale Repertory Theatre. Yale University, New Haven
20-24/07 Zoofest, Montreal
11/03Centre Cultural de la Mercé, Girona
19&20/01 Festival  « Des Souris Des Hommes », Le Carré en Jalles, Saint-Médard-en-Jalles
2009
10/12 Teatre Serrano, Gandía
9&10/10 La Piattaforma, Torino
20/06 Mugatxoan 09, La Laboral, Gijón
05/04 Festival Danae, Teatro i, Milano
2&3/04 Scène Nationale de Petit-Quevilly / Mont-Saint- Aignan
20&21/01 Frascati, Amsterdam
13/02 Teatre Principal d'Olot, Olot
12/02 Teatre Municipal de l'Escorxador, Lleida
2008
17-20/10 Teatro de los Manantiales, Valencia, Spain
05/09 Festival Nagib, Maribor
04&05/07 Festival 7 collines, St. Etienne
24/05 Chemins de Traverse, Espace Michel-Simon, Noisy-Le-Grand
01-03/05 Radicals Lliure 08, Teatre Lliure, Barcelona
13/03 Danse d'existence, danse de resistance, CCNT, Tours
27-29/02Temps d'Images, Montréal
2007
20-22/11 Les Inaccoutumés, Menagerie de Verre, Paris
06/11 Festival « Do it yourself », Montpellier
20/10 Festival Y # 05, Fundao
15&16/06 Festival Premieres, Le-Maillon, Strasbourg
28&29/03 Le Colisée, Biarritz
16/03 Frac Lorraine Festival Extension du domaine de l'intime, Metz
23/01 Festival COMPLICITATS, L'Antic Teatre, Barcelona
2006
20/10 Asilo Menghini, Castiglione delle Stiviere
16&17/10 Festival MADridBARcelona: ¡Hoy espectáculo! HAU 3, Hebbel Am Ufer, Berlin
10/10 Festival Y# 04, Teatro Municipal da Guarda, Guarda
08/04 MIRA, TNT,  Toulouse
31/03 MIRA, Théâtre National de Bordeaux en Aquitaine
08/03 Plateaux Festival, Mousonturm, Frankfurt
24/02 Arsenic, Lausanne
14&15/01 Festival Particules, Théâtre de L'Usine, Geneva
2005
17-20/11Teatro Pradillo, Madrid
11&12/10 Temps d'Images, Zé dos Bois, Lisboa
06/09 Fondation Cartier pour l'Art Contemporain
18/03 Teatro Albéitar, León
01/02 Escena Contemporánea, Teatro Pradillo
2004
04/12 MEM- Bilbao
15/09 UNO Prima Stage Europeo degli Esordi, Lucca
29&30/06 Mugatxoan 2004- Arteleku, San Sebastian
19&22/06 In-Presentable 04, La Casa Encendida, Madrid