CURATORIAL PROJECT
BUSHES, SUBSTANCES, HAIRS, NOISES
Every Thursday from 1 June to 13 July 2017, the roof terrace at CA2M hosted a programme of activities based on an educational and participative mix of sound and body.
CLÉDAT & PETITPIERRE / ANTONIO FERREIRA / INGA «LOLINA» COPELAND/ BÁRBARA SÁNCHEZ Y JAIME CONDESALAZAR/ MÚSICA PREPOST/ AMAIA URRA / JUANA MOLINA/ MÅRTEN SPÅNGBERG/ ARANTXA MARTÍNEZ / CLAUDIA PAGÈS / MERCEDES AZPILICUETA / ANTO RODRÍGUEZ/ IGNACIO DE ANTONIO / PABLO URIZAL / CHANCHA VÍA CIRCUITO / GNUČČI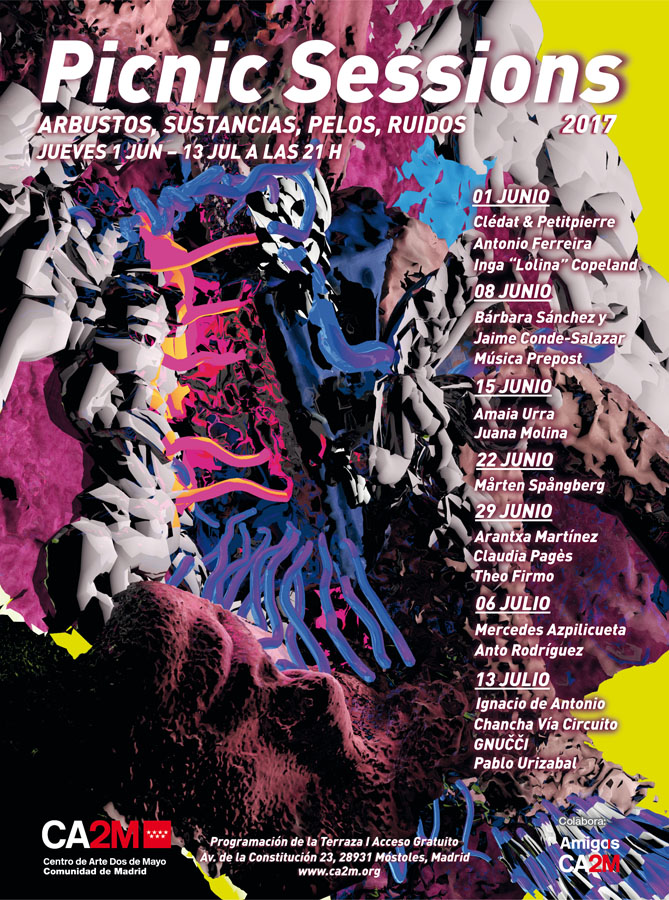 "Hairy bodies, headless bodies, plastic bodies. Bodies in strips, cut through by cables, while images speak out. Silver bodies dancing to the sound of cotton, putting on revolving objects between a pre-disc and a post-disc. Amorphous bodies that say things that nobody wants to hear: "Hello, I am a chancha", and meanwhile, others revolve on a turntable sipping a Hawaiian cocktail. Talking bushes and long hairs that caress the terrace at nightfall. A bone that isn't; a cemetery for a dog. Among the trees along the road, which are not trees, we arrive at a film that happens continuously and oscillates between one Thursday, two Thursdays, three Thursdays … up to seven Thursdays. Thursday with halo and presence. Presences that you meet when going up, before you go in, presences you try to imagine in this carriage with wigs from Móstoles, from Madrid at the service
of a blanket
of a mare
of a jet
Bodies of the sea of the bar of your gaze, bodies that interrupt a banal conversation. Banal conversation between erudite bodies. One, another … from the great beyond in dialogue with substances sprinkled on shiny floors, coloured skins dancing to hit songs while constantly slipping. They will read disconnected sentences, traces of lost women, anthropophagic exorcism … "strange free trade, losing one's hair and teeth" said Bolaño; those strange bodies that we all have. Photos of bodies printed on school folders. Cyborgs and beauties, rarities, skills, roughnesses. Half Dolly Parton, half Walter Benjamin. Shadows with legs, like the only image you have of E.T. Naked textures. Off-screen electrodes. Voices with long legs and mother tongues. A voice that comes out like a revealing vomit. Celestial bodies dressed in bubble suits that explode close to your body. Your body there, no stranger is also a strange body. And our hands full of subtitles. Fragments of slow evenings and nights that simply will not exist, because there are things that we keep for the body, your text, your action, your dance, your time...a Thursday, a picnic".
Curators: Magui Dávila and María Jerez
Image: Bollería Industrial