Performance
The Stain is a shared knowledge space where Maria Jerez has worked with a carpenter, a baker, a painter, a composer and a light designer. A space where the firm classifications of Modernity, that tend to separate knowledge in segregated fields, disappear. An unstable space where entities of different natures coexist and co- evolve in a choreography of constant encounters with otherness.The construction of this unstable choreography, focuses on the idea of dissemination, colonization, invasion, co- evolution and coexistence as a framework of thought from which to relate "bodies" or fragments of "bodies" that are not meant to be together. Understanding "bodies" as objects, people, materials, texts, sounds, matters, colors, atmospheres, spaces, time, spectators, performers...
The relationship established between these disparate "bodies" is not based on an "intelligent" relationship that seeks for coherence but on the contrary for the experience of oddkin.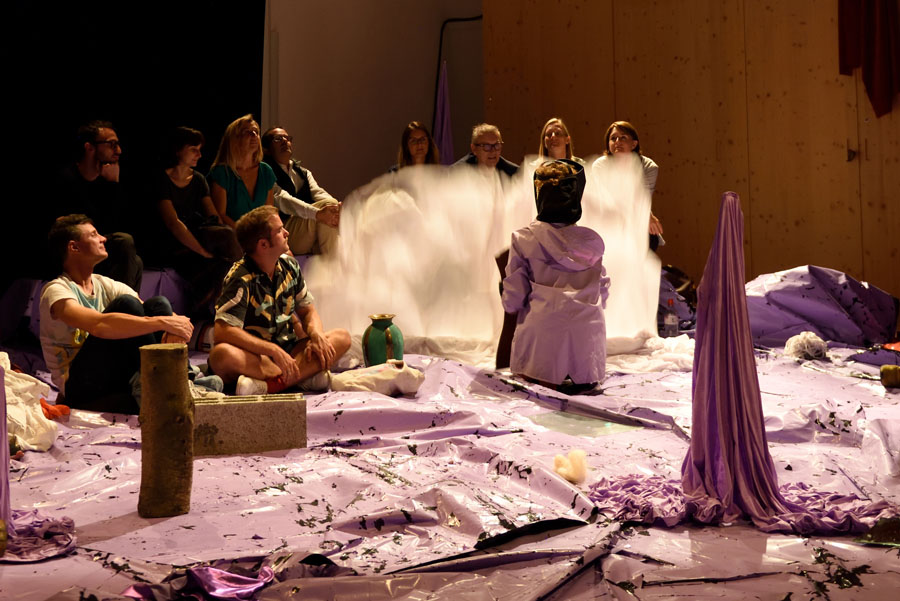 This space is unstable and proposes uncertainty. The fact of traveling through it, seeks for the development of an apparently disordered gaze, where the spectator changes her/his state because what she/he is looking at proposes a multiplicity of points of view and very different modes of attention. In this way, the viewer could stop being an "expert" spectator where his or her role as a spectator passes, from being formed by fixed contours and hard lines, to appear as an amalgam of transitory states in which a new potential of the gaze and "being together with" can emerge.
"Bodies that enter other bodies, this morning, bodies that are not meant to be together, I was on the radio, beings of different nature that cohabit in the same space and I wondered, coexistence of the difference that creates friction between the different materials, if there was a plant, bodies inside bodies, in the kitchen, pieces of bodies that come out of bodies, of the person who listens to the radio; logics out of context. They say, presences out of place, that when, spaces invaded by other substances, plants listen to low frequencies, spaces of negotiation, these frequencies, border areas, favor germination, spaces of co-evolution, growth, spaces of indifference and the health of the roots. The high ones, on the contrary, seem to have an inhibiting effect."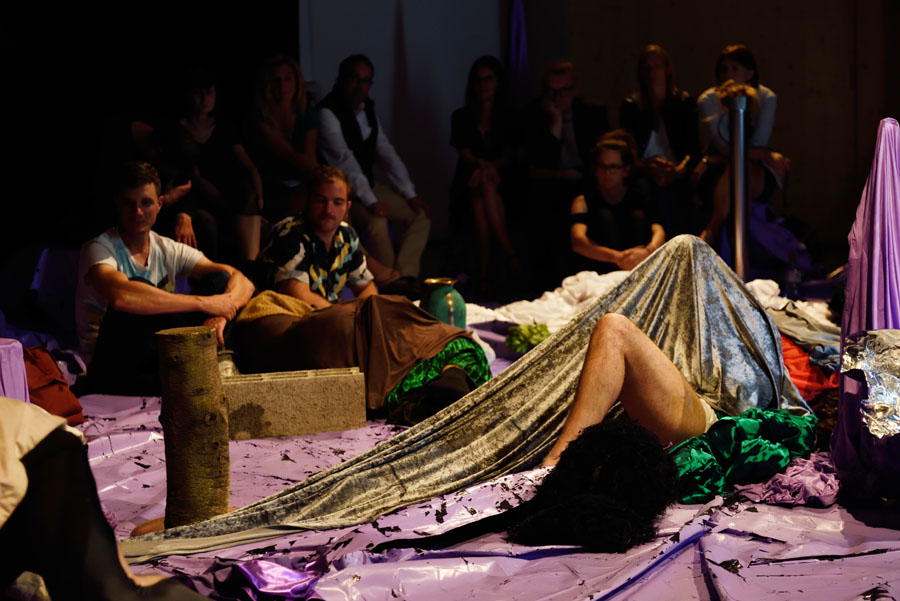 Credits
2019
1H30 min
A piece by Maria Jerez
In collaboration with Óscar Bueno, Anto Rodríguez, Javier Cruz, Arantxa Martínez, Carlos Granados, Javier Mansilla, Gilles Gentner, Antonio Peñuelas and Andrea Spaziani.
Co-produced Buda Kunstencentrum (Kortrijk), Tanzfabrik Berlin and Terreno Común, an initiative by Siemens Stiftung Foundation in co-production with Naves Matadero - Centro Internacional de Artes Vivas.
With the support of NAVE (Santiago de Chile)
Project funded by Apap-performing Europe 2020, with the help of "Creative Europe" - European Union Program.