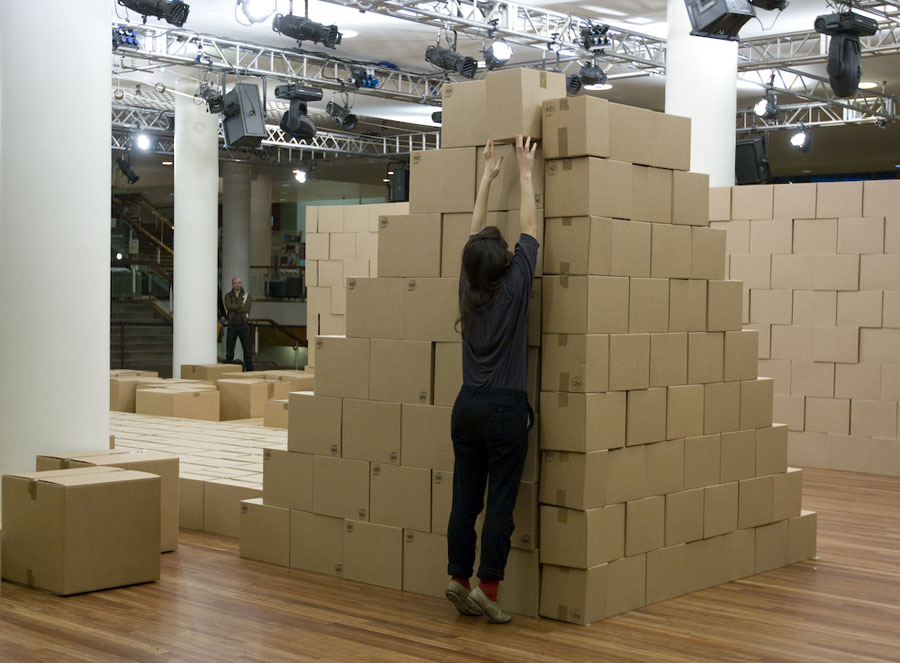 Performance
This Side Up explores the idea that behind each object there is an invisible choreography. In this work, this invisible choreography becomes visible, not just in the construction of this object, but also in how we behave with it. In this specific case, we focus on the building of the theatre as an object. We reveal not only its construction, but also our behaviour inside it and the human relations that are established through its specific architectural structure. Normally these behaviours, choreographies and movements are assumed as a convention, making it impossible for us to be consciously aware of them. In This Side Up this convention becomes representation.
This Side Up is the construction of a theatre inside a theatre. The construction becomes choreography. The choreography builds the space where, conventionally, choreography takes place. The piece builds the space where the piece happens. This creates a temporal loop in relation to the experience of the spectator: The spectator enters an empty theatre space and watches the construction of a theatre building made of cardboard boxes, a theatre that, in the end, the spectator enters.
This Side Up has different versions. Each time it's invited to be presented, we create a new site-specific version that works the specificity of the space, the performers and the ideas about the relation between architecture and choreography.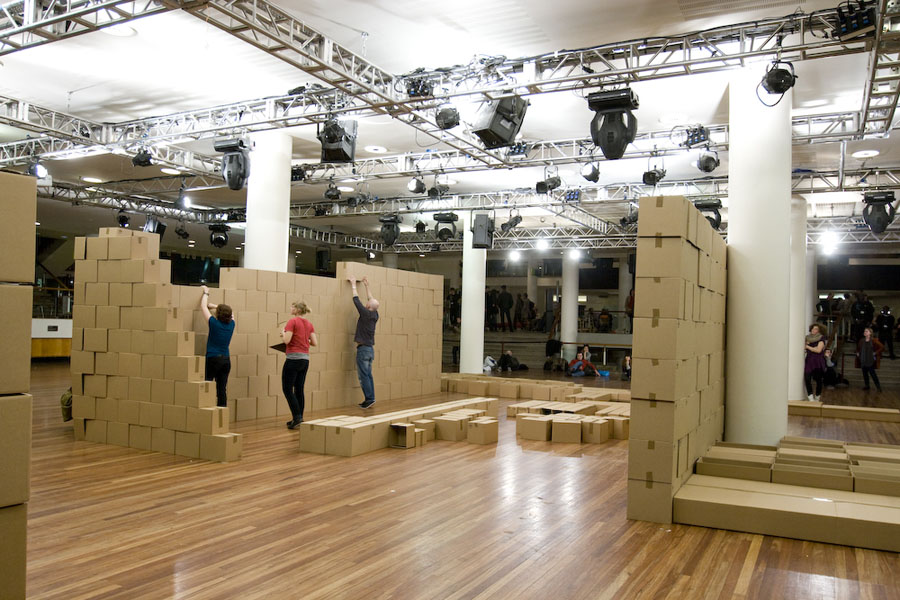 CREDITS
Concept: María Jerez
Artistic assistant: Cuqui Jerez
In collaboration with and performed by the students of Escuela de Arquitectura de Alcalá de Henares; the students of  La Cambre Architecture, Brussels; and all the participants of the workshops in Valencia, London and Heerlen.
Co produced by Aula de Danza Estrella Casero, Escuela de Arquitectura de la Universidad de Alcalá de Henares, Consejería de Cultura y Deportes de la Comunidad de Madrid and InPresentable 2006 in Madrid; Bozar in association with La Cambre Architecture and the support of Kaaitheater in Brussels; Festival VEO in Valencia; Southbank and Instituto Cervantes of London in London and Cultura Nova in Heerlen.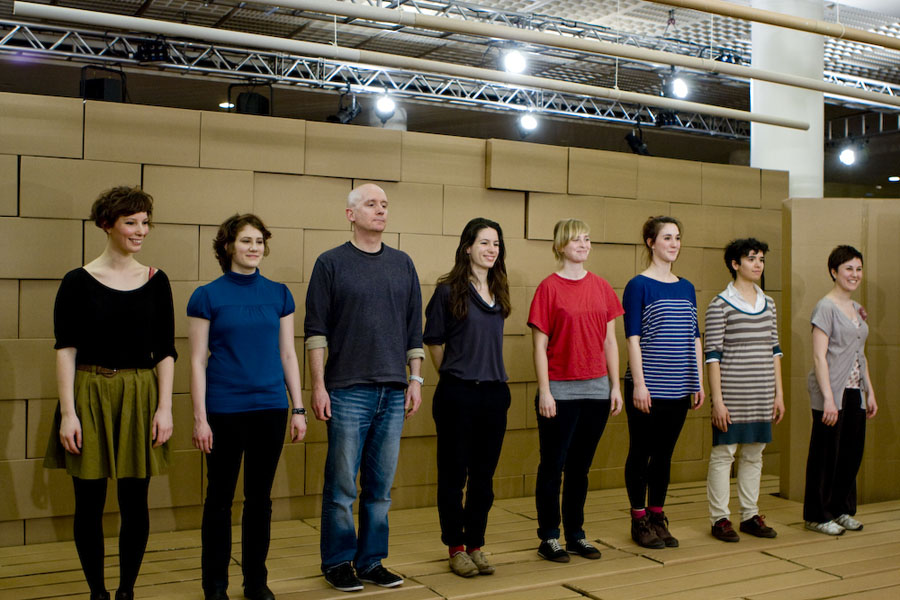 TEXTS & PRESS
This Side Up by Maria Jerez- N. 12 'Cuerpo y Arquitectura' (May 2009)
CALENDAR
2011
02/09 Cultura Nova, Heerlen, Holland
16/03 DancEUnion Festival, Southbank Centre, London, UK
26&27/02 FESTIVAL VEO. La Estufa Fría, Jardín Botánico de Valencia, Spain
2010
16&17/04 Kaaistudio's Brussels as part of the program El Ángel Exterminador by Bozar, Brussels, Belgium
2006
21/06 Festival In-Presentable 2006. La Casa Encendida, Madrid Spain
28/03 Festival Madrid en Danza 2006. Iglesia de Caracciolos, Alcalá de Henares, Spain Pictures: Jane Sutherland